Air Conditioning Replacement & Installation
Central Air Conditioning Replacement & Installation
Residential Air Conditioning Installation
Since 1966 Residential Heating & Air Conditioning has seen the Heating, Cooling and HVAC industry change over the years with the tremendous growth of the triangle area and keeping up with the latest in HVAC technology. With the heat of the North Carolina We saw the importance of having a dependable air conditioning system in the homes throughout the Triangle area as well as being trained on the latest technology and equipment advances. If your home requires new AC or Heating equipment, look to Residential Heating & Air Conditioning for the industry's best cooling solutions. With nearly 40 years of experience in the residential air conditioning profession, we can update your cooling system with the most affordable, properly sized HVAC equipment available today. What's more, we have an impeccable record in customer service and guarantee our services will meet your satisfaction.
Before embarking on an installation project, our highly trained technicians analyze the features of our customers' homes, such as windows, drapes, walls, flooring, duct work and square footage, to ensure that the cooling systems we employ meet their individual air conditioning needs. In addition, we perform our installation services at a time that best fits your schedule and work efficiently to install or repair your HVAC systems.
Home AC Installation Services in Raleigh, Durham, Cary
From outfitting new homes with air conditioning systems to updating cooling systems in older homes, Residential Heating & Air Conditioning has the perfect AC cooling solutions for your household. With nearly 40 years of experience, our HVAC specialists can be relied upon to provide you with ample, relevant information that'll help you arrange and implement a plan to meet your homes air conditioning needs. Our technicians can also guide you on how to choose the right manufacturer and size of units, as well as how to maintain your air conditioning systems to safeguard against the need for constant repairs. Trust in Residential Heating & Air Conditioning company, we have all your residential HVAC and cooling needs covered! Call the office for complete details and to answer any questions (919) 847-9221
Raleigh's Best AC Repair & Maintenance Services
We are happy to provide repair and maintenance services in Raleigh, Durham, Chapel Hill, Brier Creek, Apex, Cary, Wendell, Knightdale, Wake Forest, Clayton, Garner, Louisburg, Creedmoor and beyond. Please contact us today for service.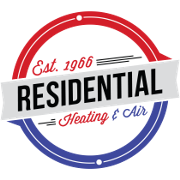 Residential Heating and Air is ready to serve you
Raleigh's Most Trusted AC & Heating Service
Raleigh Office
12630 Victoria Woods Dr.
Raleigh, NC 27613
Wendell Office
209 Gail Ridge Lane
Wendell, NC 27591