Installation, Maintenance & Repair in Raleigh, NC
Serving businesses throughout the Triangle, Residential Heating & Air Conditioning has the proper HVAC tools, equipment and repair and maintenance services constructed specifically for both large companies and organizations as well as smaller businesses. As a long-standing, experienced HVAC service provider, Residential Heating & Air Conditioning knows the difference between heating and cooling a residential home and an office. We're also familiar with the different requirements and special items needed to outfit an office building with HVAC systems, so no matter if you operate a restaurant, retail shop, or have a business using a general office space, we can ensure that your facility will maintain a comfortable temperature throughout the seasons.
As any shrewd business owner knows, having the most up-to-date and reliable products and supreme service saves time and money. At Residential Heating & Air Conditioning, we understand the need to have access to the industry's top products and provide the best service we can. With new, groundbreaking products and optimum service, the HVAC technicians at Residential Heating & Air Conditioning offer notable services that distinguish us from the rest of the heating, ventilation and air conditioning industry.
Specialized Business HVAC Services in Raleigh-Durham & The Triangle
As a leading HVAC company that services Raleigh and its surrounding regions, Residential Heating & Air provides unique services aimed at protecting the quality and integrity of our heating and cooling systems and services. No matter the size of your business, Residential Heating & Air Conditioning offers you an entire year of total protection with our unique service plan. With this plan you receive:
Spring outdoor condenser coil cleaning
Freon pressure maintenance
Thermostats and air temperature maintenance
Burner maintenance for the winter
Air filter
Contact us today for more information about our services available in Raleigh, Cary, Apex, Louisburg, Clayton, Brier Creek, Wake Forest, Durham and Chapel Hill.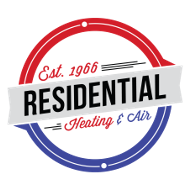 We are ready to serve you
Raleigh Office
12630 Victoria Woods Dr.
Raleigh, NC 27613
Wendell Office
209 Gail Ridge Lane
Wendell, NC 27591